Theatre on the Edge 2015
Posted on June 30, 2015 in General News, Member News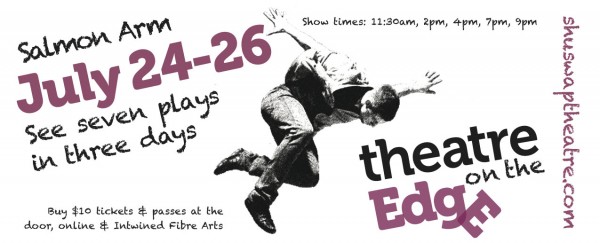 Shuswap Theatre's summer festival of 

bold and brave theatre

.
From the first Theatre on the Edge meeting in January full of enthusiastic dreaming, to the first day of the festival when we grinned like idiots to see all the people coming to the first show, it's been a blast! "Seven Plays in Three Days" meant fourteen setups and take downs and three fourteen hour days for our stupendous tech crew who managed all with grace and style. 
We welcomed three out of town shows with a huge range of tone, content and style. Local artists drew familiar faces into their audiences as well as many new ones. And the Edge Club turned out to be an essential part of the Theatre on the Edge experience, providing a relaxed and animated space for people to hang out between shows, listen to live music and meet friends and performers. 
Almost 800 tickets were sold over the weekend. People came to experience theatre in a new setting, theatre that was a little edgy or just a little different that what Shuswap Theatre usually offers. Let's do it again next year!
Interested in bringing a show to Theatre on the Edge 2016?
 Information about applying to the 2016 festival will be posted right here in late 2015 or early in the new year. We hope to see you at the 2016 Theatre on the Edge Festival, July 22-24. 
2015 Plays
Chronological schedule             Edge Club entertainment schedule
A Bench at the Edge


By Luigi Jannuzzi




Directed by Julia Body




Red Wagon Theatre



A multiple award winning dramatic comedy in the style of theatre of the absurd.  A man sits on a bench at the edge of the abyss. A second man arrives.  How did they come to be here? What has drawn them to the edge?  Adult themes.

Friday 2:00 pm
Sunday 7:00 pm

Bed Among the Lentils
By Alan Bennett


Ida and Old Baldy Theatre Project 

A delightful one woman show starring Nina Dickins. Susan, an unhappy churchman's wife with a surprising secret, tells her own story.


Presented by special arrangement with Samuel French.

Friday 4:00 pm
Saturday 11:30 am

A Very Silly Love Story


Written and directed by Peter Blacklock

Bertie and Jasmine are alone on a South Sea island, the only survivors of a shipwreck.  Unfortunately, the bump on the head that he suffered when the ship sank has resulted in Bertie losing his memory so he has no recollection of their whirlwind romance or of being married moments before the ship sank. Winner of the Playwrights Award at the Pend'Oreille One Act Play Festival.

Friday 7:00 pm
Sunday 2:00 pm

Christie in Love 
By Howard Brenton
Directed by Robert Mason-Brown
Fred Skeleton Theatre

A disturbing investigation into the mind of the infamous serial killer, John Reginald Halliday Christie, who strangled eight women in his flat in Notting Hill in the 1940s and '50s. It is part of Brenton's group of 'Plays for the Poor Theatre' – plays with minimal theatrical requirements and small casts, but fierce intensity.Fred Skeleton Theatre has won the Okanagan Zone drama festival for the past two years in a row.

Friday 9:00 pm
Saturday 2:00 pm

The Question Is…


By Calvin White 

An unsettling look at an individual's search for purpose. A psychodrama that pulls the audience into the emotions and thought processes that any human might experience given similar circumstances. This is a performance that engages us to answer in ways we might not expect. The result is theatre that, while disturbing, in the end pushes us to go deeper into the fabric of our humanness.
Previously performed at the Vancouver Fringe. Adult themes.

Saturday 4:00 pm
Sunday 9:00 pm

Back and Forth and Back
Presented by Saucy Fops
The newest offering by Saucy Fops of Kamloops, BC, this is a fast-paced and intricate show which examines the repetition and rhythm of our daily interactions, and how a simple change of perspective can often reveal mixed messages.

Saturday 7:00 pm
Sunday 4:00 pm

Cougar Annie Tales
Written and performed by Katarina Kadoski 
This touring musical drama tells the tale of legendary pioneer settler Cougar Annie. She outlived four husbands, ran a post office/nursery business near Tofino and was a bounty hunter who claimed to have trapped many cougars.
• 2012 Pick of the Fringe – Victoria, BC. 2012
• Critics Choice nomination "Best New Play" 2012

Saturday 9:00 pm
Sunday 11:30 am
Chronological schedule             Edge Club entertainment schedule