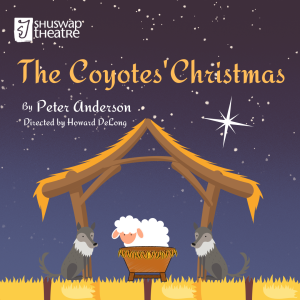 The Coyotes' Christmas
By Peter Anderson
Directed by Howard deLong
December 10-19
When three hungry coyotes disguised as shepherds (in a futile effort to catch sheep) are told by an angel that "unto you is born this day the Lamb of God", they set out to steal the lamb, not realizing it is the baby Jesus.
You may have seen this play at the Caravan Farm Theatre's annual Christmas show and sleigh ride. Peter Anderson has written and acted in many of the Caravan's most popular plays.
Adults $15, Kids (5-12) $7.
Please note:  The Dec 18th matinee is a Relaxed Performance. What is this?

The Coyotes' Christmas is presented by special arrangement with the Playwrights Guild of Canada.