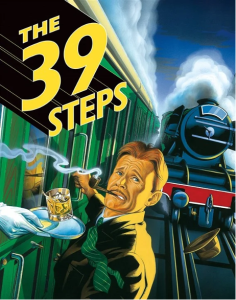 Audition Call
December 11 & 12 (Sunday-Monday) at 6:00 pm.
Aspiring thespians, come on out to auditions for our winter production The 39 Steps. This is a fast-paced comedy that spoofs a 1930s Alfred Hitchcock movie by the same name. It is presented with only 4 actors playing all of the parts, which are physically demanding.
Needed are 3 males and 1 female, ages 25 – 50. Improv experience is an asset but not essential. Rehearsals will begin in early January with the play running from Feb 24 – March 11. For further information about auditions and the play, email director, Julia Body. Scripts and audition pieces will be available.