Shuswap Theatre Seating Chart
Posted on August 28, 2018 in General News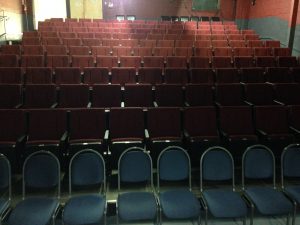 The chart below shows the arrangement and numbering of seats in the house.
Row A is still made up of removable chairs so as to be wheelchair accessible. We remove two chairs for every wheelchair/scooter. We reserve A1–A4 for wheelchairs and these are available only through Choose Refill or at the door if available. If the sales are getting near a full house, these seats are released to the public.
The two seats closest to each aisle in Rows B and C are good for people with walkers if they can handle one or two steps. Use Row A for no steps. Walkers will be stored in the scene shop by our Front of House volunteers so that that emergency egress is not blocked.
The back row, K, now has an extra two inches of leg room for our long legged patrons.