Runaway Moon Comes to Shuswap Theatre
Posted on March 13, 2016 in General News
21 Ways To Make The World Last Longer
A family-friendly Puppet Play for Adults!
March 31–April 2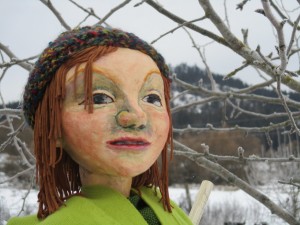 21 Ways to Make the World Last Longer is a practical, hopeful, and simple tribute to the beauty of humanity.  This brand new puppet play for youth and adults is a 90-minute funny and dramatic sharing of the kooky and maybe necessary approaches to living on an endangered planet.
Sally is learning about the spring birds who visit in and around her small town in British Columbia; Peter is teaching his 97-year-old mother to take the bus in eastern Ontario; Laura remembers a disappointing Christmas; Greg is doing his best to avoid the internet; and Ross is meditating … as fast as he can.  These are just five of the 28 puppet characters that you will meet in this documentary-style puppet production.
Tickets available online from Ticketseller or from Intwined Fibre Arts, 81 Hudson Ave NE, Salmon Arm.
More details on the Runaway Moon website…