Theatre of Thrills
Posted on October 21, 2020 in General News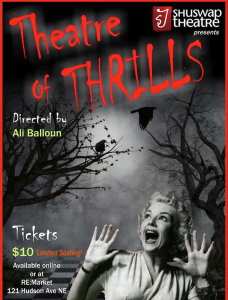 October 30 and 31, 2020,  7:00 pm
This Halloween, lock your doors, turn out the lights, and don't miss out on Shuswap Theatre's Theatre of Thrills. This mix of radio plays and audio dramas features some of Salmon Arm's brightest  young actors and actresses. Directed by well known actor,  Ali Balloun, Theatre of Thrills is a Reader's Theatre gold mine filled to the brim with all things creepy. The evening will include showings of:
A Week Ago Wednesday by William Spier
The Tell-Tale Heart by Edgar Allen Poe (Adapted by Debra Schultz)
The Curse of the Ugly Dolls by Pat Cook
The House in Cypress Canyon by William Spier
In addition to the performances at 7:00 pm on both October 30 & 31st, Theatre of Thrills will be broadcast on The Voice of the Shuswap on Halloween for anybody who missed the live event.
See our COVID protocol to see how we will keep everyone safe and meeting health guidelines.
Tickets ($10) can be purchased online (button below) or at Re-Market etc. on Hudson Street. To sit with people in your bubble, you must purchase all tickets in one transaction. Otherwise the system will put three empty seats on either side of you (severely limiting our capacity). There will be no concession or intermission.  Only 50 tickets per performance will be available. Please do not come if you are not feeling well or showing any potential COVID symptoms. Your money will be refunded.