Call for Actors
Posted on November 21, 2017 in General News
Auditions for Opening Night by Norm Foster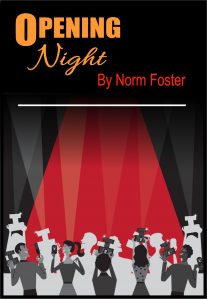 Tuesday, December 5 and Wednesday December 6,  6:00 to 10:00 pm
Director Paul Kirkwood-Hackett is looking for eight actors for our next mainstage production – a rollicking comedy by Canada's favourite comedic playwright.
Auditions will be held at the theatre, 41 Hudson Ave NW, Salmon Arm
Five men and three women are to be cast. While the script suggests an age range of mid/late 40s for most of the roles, there is some flexibility so actors outside of that range are welcome to audition. The Tisdales in particular could be older.
Jack Tisdale – varnish salesman, mid/late 40s
Ruth Tisdale – accountant, Jack's wife, mid/late 40s
Richard Hyde-Finch – theatre director, mid/late 40s
Cilla Fraser – Richard's girlfriend, mid/late 40s
Michael Craig – a rarely employed actor, mid/late 40s
Clayton Fry – lead actor in the play within a play, mid/late 40s
Libby Husniak – ingenue in the play within a play, early 20s
Tom Delaney – waiter and aspiring actor, early 20s
Those auditioning will be asked to take part in theatre games, and to read selected scenes from the play in pairs and groups. It is not necessary to attend both auditions.
Rehearsals begin Monday, January 8, 2018
Opening Night opens Friday, February 23, 2018 and plays weekends (Thursday through Sunday) until Saturday, March 10, 2018.
Please download, print and complete the Audition Sheet and bring it with you to the audition. If you would like to read the play in advance (always a good idea), or if you have other questions contact Paul or Bea Kirkwood-Hackett at 250-838-0230 or by email.