Direct from ringside at Shuswap Theatre
The Battle of Two Lakes Improv Games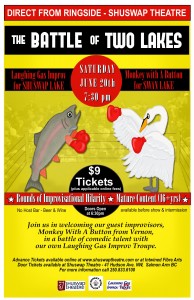 In the left corner, for Shuswap Lake, is the Laughing Gas Improv Troupe. In the right corner, for Swan Lake, is Monkey With a Button Improv.
Join us in welcoming Monkey With a Button, our guest improvisers from Vernon, in a battle of comedic talent with Laughing Gas Improv Troupe.
Rounds of improvisational hilarity with the audience as the judges.
Saturday, June 20 7:30pm (doors open at 6:30pm). No Host Beer and Wine available before the show and at intermission.
Rated Mature – ages 16 and over.
Tickets are $9.
click the Buy tickets now button below (modest convenience fee)
at Intwined Fibre Arts (on Hudson across from the Art Gallery)
at the door
This show will be in memory of founding Laughing Gas Troupe member, Patrick Allwood, who passed away on May 20, and who will be remembered for his wonderful laugh and colourful characters.
For more information contact Julia Body by email or at 250-833-1496.
Shuswap Theatre, 41 Hudson Ave NW, Salmon Arm.
Important notice for those on our mailing list who buy tickets online.
---
What is Improv?
Improv stands for improvisation. Improv theatre is based upon a wide variety of games and exercises in which the actors must make it up as they go along. A group might be given, for example, a series of elements (say a comb, a nut cracker and a volleyball net) that must be incorporated in a story. They then act it out spontaneously with no planning. The actors have to think on their feet and respond appropriately to what the others are doing and saying. Improv is great fun to do and hilarious to watch.
Laughter is indeed, the best medicine!
Laughing Gas Improv Troupe is Shuswap Theatre's performing improv group and specializes in the art of unscripted comedy and improvised performance, at really cheap prices! The troupe is completely self-directed, with a strong sense of play, and a keen commitment to making their audiences laugh til the tears run down their legs.
---
---
Come Play with Us!
Laughing Gas Improv is setting up play dates for those of you that would like to try your hand (or foot!) at Improv – or maybe refresh your skills!
For one hour, from 7:30 – 8:30pm on the third Monday of every month, anyone age 18 and over can drop into Laughing Gas' Improv practises and have some fun. You won't even realize you are learning something! (After we play, the Laughing Gas gang will close the doors for a private 'troupe only' practise.) This is a great way to have fun and learn without the burden of public performance.
There is no cost to join us, but we do ask that all participants be members of Shuswap Theatre. Become a member.
Drop-in Play Group has finished for this current season. Check back regularly for news of workshops and other opportunities to come out and play with us at our summer show and in the fall.
If you have any questions, please contact Julia Body by email or at 250-833-1496.