What is Improv?
Improv stands for improvisation. Improv theatre is based upon a wide variety of games and exercises in which the actors must make it up as they go along. A group might be given, for example, a series of elements (say a comb, a nut cracker and a volleyball net) that must be incorporated in a story. They then act it out spontaneously with no planning. The actors have to think on their feet and respond appropriately to what the others are doing and saying. Improv is great fun to do and hilarious to watch.
Laughter is indeed, the best medicine!
Laughing Gas Improv Troupe is Shuswap Theatre's performing improv group and specializes in the art of unscripted comedy and improvised performance, at really cheap prices! The troupe is completely self-directed, with a strong sense of play, and a keen commitment to making their audiences laugh til the tears run down their legs.
A Night to Remember in November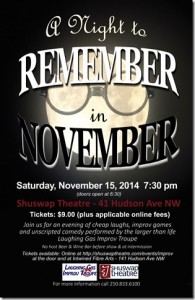 Tickets are on sale now for Laughing Gas Improv's Fall Show. 'A Night To Remember' will be Saturday, November 15 at 7:30 pm (the day of the municipal election, what better way to come and destress after you vote!)
Tickets are on sale now! and just $9.00 (plus applicable online fee) General Admission Seating.
And now you can buy them from our website! right here, right now. Just click on the 'Buy Tickets Now' button. Or you can go to our Ticket Seller, Intwined Fibre Arts on Hudson to purchase your tickets, or at the door!
As is our tradition, Beer and Wine are served from our no-host bar before the show, during the show and at intermission. Arrange for a ride home and have a really fun night out.  This show is rated M and not recommended for anyone under the age of 16.
3 seasonal shows Sat. Nov 15, Sat. Mar. 14 and Sat. June 20. Beer and wine are served and it's a fun adult night out.  
Laughing Gas is also available for hire!
For more information about our Improv program, please contact Julia Body at 250-833-1496 or email Julia.