What is Improv?
Improv stands for improvisation. Improv theatre is based upon a wide variety of games and exercises in which the actors must make it up as they go along. A group might be given, for example, a series of elements (say a comb, a nut cracker and a volleyball net) that must be incorporated in a story. They then act it out spontaneously with no planning. The actors have to think on their feet and respond appropriately to what the others are doing and saying. Improv is great fun to do and hilarious to watch.
Laughter is indeed, the best medicine!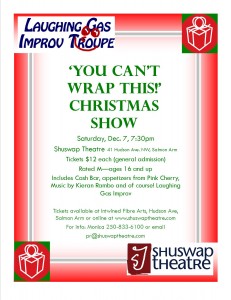 "YOU CAN'T WRAP THIS!"
CHRISTMAS IMPROV SHOW
Saturday, December 7 -  7:30pm – Laughing Gas Improv Troupe's 'You Can't Wrap This' Christmas show tickets are on sale now at Intwined Fibre Arts or you can purchase them online via paypal.
Tickets are $12 each, general admission and include: Cash bar (Barley Station ale, red and white wine) appetizers from Pink Cherry and music by Kieran Rambo.
Rated M – 16 and over
Click here to pay by paypal or online with your credit card – you don't need a paypal account to use this service. If you need to order more than ten tickets you will have to do two separate paypal orders.
Laughing Gas Improv, Shuswap Theatre's performing improv group, Laughing Gas, has regular (closed) practices on the 1st and 3rd Monday of each month. The performing group is working on a program where others can join in on occasion – stay tuned!
For more information about our Improv program, please contact Julia Body at 250-833-1496 or email Julia.
Show dates for the new year: Friday, March 14, 2014 and Saturday, June 21, 2014 – check back for details!