Leonard Cohen Tribute Concert

A Fundraiser for the Shuswap Performing Arts Centre
Presented by the Shuswap Society for Arts and Culture
Three shows:
May 22 & 23 at 7:30 pm
May 24 at 2:00 pm
at Shuswap Theatre

Following two very successful concerts (the Woody Guthrie Tribute and last year's Broadway Revue) Jake and Friends are doing it again. This year's concert is a Leonard Cohen Tribute and the funds raised will support the proposed Shuswap Performing Arts Centre. Eighteen talented vocalists and instrumentalists will present twenty-four Cohen songs, some of them sing-along, and along the way you will learn interesting information about his life. Admission is by donation at the door.
---

One More Chance to See

 Pack of Lies

 
By Hugh Whitemore
Directed by Kim MacMillan
Festival Performance Friday, May 29, 7:30
Powerhouse Theatre in Vernon
The Jacksons are a pleasant, middle aged English couple. Their best friends are their Canadian neighbours, the Krogers. All is blissful in their world until an agent from an unnamed government agency asks to use their teenaged daughter's bedroom as an observation post to foil a Soviet spy ring operating in the area. The Jacksons become more and more distressed as the agent's demands increase. They are really put to the test when it is revealed that the suspected spies are their closest friends. Should they betray their friends? Should they tell their daughter, who loves Auntie Helen and Uncle Peter? Is their whole friendship built on lies?
Warning – Some strong language
Presented by special arrangement with Samuel French, Inc.
Tickets available on line from TicketSeller.
---
Direct from ringside at Shuswap Theatre
The Battle of Two Lakes Improv Games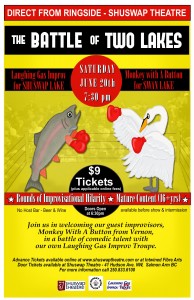 In the left corner, for Shuswap Lake, is the Laughing Gas Improv Troupe. In the right corner, for Swan Lake, is Monkey With a Button Improv.
Join us in welcoming Monkey With a Button, our guest improvisers from Vernon, in a battle of comedic talent with Laughing Gas Improv Troupe.
Rounds of improvisational hilarity with the audience as the judges.
Saturday, June 20 7:30pm (doors open at 6:30pm). No Host Beer and Wine available before the show and at intermission.
Rated Mature – ages 16 and over.
Tickets are $9.
click the "Buy Tickets Now" button below (convenience fee applies)
at Intwined Fibre Arts (on Hudson across from the Art Gallery)
at the door
For more information contact Julia Body by email or at 250-833-1496.
Shuswap Theatre, 41 Hudson Ave NW, Salmon Arm.
Important notice for those on our mailing list who buy tickets online.
---
Salmon Arm's first festival of alternative theatre, will run July 24-26, 2015 – three days of wild and wooly drama, inside our own Shuswap Theatre. With performances starting in the afternoon and running into the evening, and our own Edge Club on site offering food and drink and free outdoor entertainment, we're envisioning a stimulating, social festival atmosphere for the three days. Theatre artists will be able to meet with each other and audience members to help generate a big theatre buzz around Salmon Arm.
This is the first year of the Theatre on the Edge Festival, and we're still in process. Registration package and technical specs will be available in April. If you're interested in finding out more about the festival, or receiving a notification when the package is available, send us an email.
In the meantime, here are some useful bits of information:
Our venue is a fully functional theatre (capacity 150) with lobby, a small backstage dressing room and good sound and lighting capabilities. Tech specs will be available online in April.
Application/registration fee is $200. Performing groups will receive 80% of the box office, less GST and any convenience charges applied to tickets or passes. Groups are guaranteed a minimum of 2 performances during the festival, at least one of them during the evening, with a possibility of more performances.
Tickets for all shows are $10. We will be selling passes for multiple shows at a discounted price. We have an online booking system that charges a convenience fee for advance purchases, and a physical ticket outlet in town. Tickets will also be available at the door.