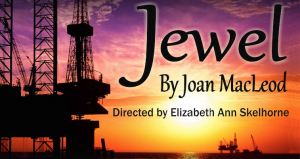 "Jewel" Returns to the Stage
We are pleased to announce that we have a partial replacement for the canceled show After You.  The creative team that brought Jewel to our audiences two years ago will remount this excellent one woman show in time for the festival. Jewel is a moving, funny and essentially hopeful story of one young woman widowed by the sinking of the Ocean Ranger oil platform off Newfoundland in 1988. Directed by Elizabeth Ann Skelhorne , Jewel stars the award winning Kaitlan Hunter as Marjorie. The play runs May 18 and 19 and then opens the OZone Festival on May 20th. (Note that festival prices are different from normal Shuswap Theatre Prices.) Read what the Salmon Arm Observer wrote about Jewel.
To buy tickets online for May 18 or 19th click "Buy Tickets Now". For May 20th and all other Festival performance tickets click "Buy Festival Tickets Now."

If you are an After You ticket holder, please click here to learn about your options.
Jewel is staged by arrangement with Pam Winter, Gary Goddard Agency, www.garygoddardagency.com.