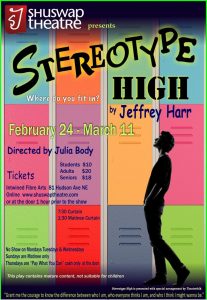 Stereotype High
By Jeffrey Harr
Directed by Julia Body
February 24 – March 11, 2017
The Geek. The Jock. The Stoner. The Slut. The Loser. Once you have been given a label, you are stuck with it, especially in high school. In a series of interlaced, touching and comedic vignettes, these "stereotypical" teens fight tooth and nail to reinvent themselves. This play shows that there is nothing more powerful than the teen who stands alone, proud of who he or she is.
Whether you are in high school now or whether it is a distant memory, you will relate to the time of insecurity and the search for identity that Stereotype High reveals. You will laugh out loud as you recognize yourself, your friends or maybe your grandchildren. This is a play for teens and adults.
Watch the trailer created by Roxy and the gang at shuswapevent.com.
Presented by special arrangement with Theatrefolk. * Contains Adult Themes *