7 Awards at the Ozone Festival!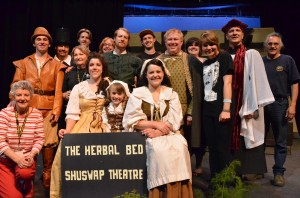 (Ozone cast and crew photo credit Matt Brown)
The cast and crew of The Herbal Bed brought back SEVEN of the eighteen awards presented at the Ozone Festival in Vernon. The awards are:
Best Supporting Actress – Kaitlan Hunter
Best Sound Design – Stephen Ingle
Best Costume Design – Ellen Gonella
Best Set Decor – Cilla Budda
Best Props – Cilla Budda
Best Performance by a Child Actor – Katie Findlay
Best Backstage Cooperation – Shuswap Theatre
Honorable Mention was given to Althea Mongerson in the category of Best Actress.
The Festival ran from May 13 to 19, with the theme 'Let's Celebrate' features five plays in five days. Theatre companies presenting were The Hub Collective, Vernon; Fred Skeleton Theatre Company, Kelowna; Theatre Kelowna Society; Shuswap Theatre and Kamloops Players.  The play chosen to represent our zone at the Mainstage Festival was Venus in Fur by Fred Skeleton Theatre Company, Kelowna
 Written by Peter Whelan, Directed by Kim MacMillan and Produced by Susan MacMillan
The Herbal Bed is presented by arrangement with Dramatists Play Service. Poster photo courtesy of Bob Seary, The Project Group.
Listen to Director Kim MacMillan's interviews on "The Voice of the Shuswap" and EZ Rock.
Voice of the Shuswap             CKXR Interview-Herbal Bed
Prepare to 'GET MOONED' June 15!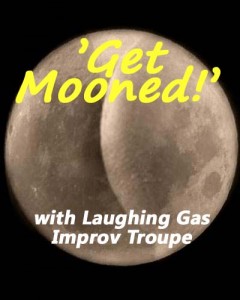 Come celebrate the full moon and laugh until there's no more beer (or wine!)
'Get Mooned' features improvised comedy, games, challenges, and questionable audience participation.
With Special Guest Improvisers; Peter Blacklock, Nedine Scott, Uther Radcliffe and Melissa Treleaven!
Cost is only $7 per person (at the door), includes our trademark 'Munchies', and cash bar. Doors open at 6:30 pm.  Rated M for Mature. For more information contact Monica at 250-833-6100
Calendar of Theatre Events

View the Public Calendar containing events of interest to the public. 
View the Members Calendar with details of rehearsals, production schedules, etc.