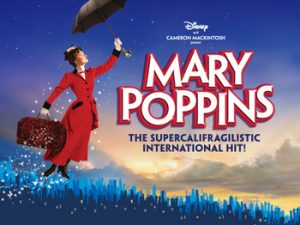 Mary Poppins Auditions
The rumors are true. Shuswap theatre is bringing Disney and Cameron MacKintosh's Mary Poppins to our stage as the first show of our 2016-17 season. The show will be directed by Kim MacMillan with musical direction by Jean MacLennan and choreography by Carolyn Wonacott and Raelynn Heppell of the Shuswap Dance Centre.
There are a large number of actors, singers and dancers needed, though not all parts require all of those talents. We will be recruiting a small group of trained singer/dancers to act as the chorus and to wow the crowds in the blockbuster choreography numbers like Step in Time. 
We have scheduled a larger number of audition times than usual in part to accommodate those who may be away. Auditions run from August 25 to September 1. Please click here for the details including the roles available.
Due to the special challenges of this show we will have a longer rehearsal period than usual –twelve weeks prior to the November 25th opening.
Check the details here and, if you have further questions, contact Kim MacMillan by email or at 250-517-0309.