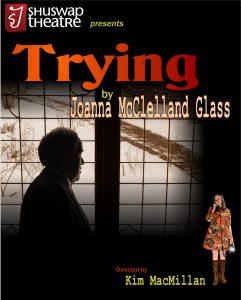 "Trying"
By Joanna McLelland Glass

Directed by Kim MacMillan
February 22 – March 9
Judge Francis Biddle is a crusty octogenarian in very poor health who was Attorney General under Franklin Roosevelt. He believes himself to be in his last year of life and he just can't seem to find the right person to assist him in organizing the papers and experiences of a brilliant career. Many have tried, but none have yet managed to survive his intimidating manner.
Then Sarah Schorr, a 25 year old, plain-spoken girl from Saskatchewan, arrives at his office. Has Mrs. Biddle finally found someone with the spine to survive this cantankerous curmudgeon? Set in Georgetown, Washington, DC, in November 1967, Trying is based on playwright Joanna McClelland Glass' experience working for Judge Biddle. It is a beautifully written, ultimately heart-warming story of a growing relationship with understanding, mutual respect and perhaps even love.
Performances: Feb 22-24, Feb 28-Mar 3, Mar 7-9. Evening shows 7:30, Sundays 1:30. No reserved seats for "Pay What You Can Thursdays – cash only at the door.
Presented by special arrangement with Samuel French Inc.