Rapunzel: A Tangled Tale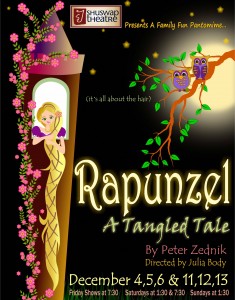 A Christmas Pantomime
By Peter Zednik
Directed by Julia Body
December 4–6 and 11–13
The whole family will be chuckling over this trendy take-off on the traditional tale. It's all about the hair as we meet Prince Pompadour, King Bouffant and Queen Beehive, amongst other zany characters. The one liners fly thick and fast and the audience can't help but get involved. A must see for this holiday season. Who knows, maybe even a visit from the big guy.
Presented by arrangement with the playwright.
Times
The play runs over two weekends:
Fridays at 7:30 pm
Saturdays at 1:30 pm and 7:30 pm
Sundays at 1:30 pm
Tickets
Adults:  $9.98
Children 12 and under:  $5.00
Youth 12–20 may also purchase tickets for $5 through the SHUGO program at the Salmon Arm Arts Centre. Read about it on our Tickets page.
Tickets available online or at Intwined Fibre Arts.  Rush seats only. Last year's show sold out most nights so patrons are urged to buy tickets early.
---
Welfarewell
By Cat Delaney

Directed by Evelyn Birch
February 19 – March 5, 2016  
Retired actress Esmerelda Quipp is 80, still of sound mind, and having difficulty supporting herself with her meagre government pension. Her landlord has shut off the water and lights, and then her beloved companion of many years, her cat, dies. When she tries to bury it in the yard, the landlord stops her saying it's a violation of the law. When she is arrested, Esmerelda discovers a sense of community and free room and board within the prison system. How will Esmerelda convince the legal system she should be incarcerated, literally, for life? Find out in this delightfully charming comedy. Winner of the 2009 Samuel French Canadian Playwrights Contest.
Tickets
Adults:  $20    Seniors   $18    Students  $10
Thursdays are Pay What You Can, cash at the door only.
Youth 12–20 may also purchase tickets for $5 at the Salmon Arts Centre (Art Gallery) through the SHUGO program. Read about it on our Tickets page.
Tickets are available online,  at Intwined Fibre Arts or at the door 1 hour before show time.
Times
February 19–21, 25–28, and March 3–5
Thursday, Friday and Saturday shows are at 7:30 pm
Sunday shows are at 1:30 pm
Welfarewell is presented by special arrangement with Samuel French. Contains Adult Themes  
Auditions for Welfarewell December 14 & 15. Read more…