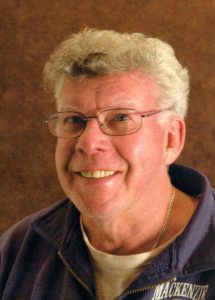 Shuswap Theatre Honours James Bowlby
Shuswap Theatre took a few minutes during the OZone Festival awards ceremony to present a special trophy to founder and long time member, James Bowlby. James recently stepped down from the Artistic Committee, a post he has held for many years. It gave us pause to reflect on his considerable contributions over many years. Some highlights from the presentation:
Driving force behind the founding of Shuswap Theatre
Love of period pieces, costumes, sets and beautiful stage pictures that flow into each other
Ambitious in many ways – plays chosen, taking on large projects, etc.
Major force in the acquisition and renovation of our current theatre building from an old radiator shop
Efforts to create opportunities for young people (summer theatre, Salmon Arm Actors Studio).
Served as OZone chair and President of Theatre BC.
Received the prestigious Eric Hamber trophy from Theatre BC for "outstanding contribution to community theatre in BC over a long period."
Received from the zone, the Ozzie Award for "an outstanding contribution to the Okanagan Zone and to community theatre in BC."
Continues to produce plays for dinner theatre and is preparing a short play for Theatre on the Edge this July
Continues as president of the Shuswap Society for Arts and Culture, with the aim of constructing a performing arts centre in Salmon Arm
There are very few people who have been more dedicated to the art and practice of community theatre. It has been his life.
Thank you James