Announcing Our New Season!
Click here to download the Season brochure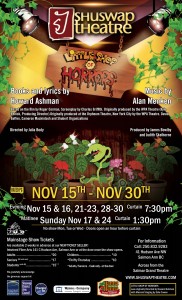 A fantastic run of 'Little Shop of Horrors' 
A musical directed by Julia Body, Co-produced by James Bowlby and Judith Skelhorne, Book by Howard Ashman, Music by Alan Menken, Lyrics by Howard Ashman, Produced by special arrangement by MTI Shows. Rated PG
Our first Mainstage production has closed on a very high 'note' with sold out houses and standing ovations! check out the wonderful photos by Jason Hutton of Apathetic Photography here.
'You Can't Wrap This!' Christmas Show with Laughing Gas Improv Troupe
 Saturday, Dec. 7 – 7:30pm  (doors open 6:30pm)
This Christmas comedy show is rated M and includes a cash bar, free appies from The Pink Cherry and music by Kieran Rambo. Tickets go on sale Fri. Nov. 22 at Intwined Fibre Arts on Hudson. General Admission – $12.00 each
'The Nutcracker'
Saturday December 14  6:30 pm and Sunday December 15  2:00 pm (doors open one hour before show time)
Shuswap Theatre is pleased to co-present The Nutcracker with FACES Blind Bay. This version will include ALL dance disciplines and the music and art
students will also be showcased in the production! Click here to read more
Winter:  'Distracted' 
A comedy directed by Guest Director Adele Kuyek,
By Lisa Loomer, produced by special arrangement by Dramatists Play Service. Rated PG13
Casting and Crew call – Click here to read more.
Runs Feb. 21 thru March 8, 2014. Click here to read more.
Spring: 'The Compleat Wrks of Wllm Shkspr' (Abridged)
A comedy directed by Evelyn Birch
By Adam Long, Daniel Singer and Jess Winfield, produced with special arrangement from Broadway Play Publishing Inc., New York. Rated PG
Runs April 25 thru May 10, 2014. Click here to read more. 
---
Calendar of Theatre Events

View the Public Calendar containing events of interest to the public. 
View the Members Calendar with details of rehearsals, production schedules, etc.
---
To subscribe to receive Shuswap Theatre News – click here