Troubleshooting Your Online Ticket Purchase
Having problems completing your online ticket order? Here are some helpful hints to get you going again. If none of the advice below resolves your problem, you may call the number at the bottom of this page.
What is TixHub?
TixHub is a Canadian company offering ticketing software and services to theatres and other entertainment venues. When you are buying tickets online you are actually on the TixHub site though you may not realize it. Shuswap Theatre pays TixHub a fee for each ticket sold. You can return to our own website anytime by clicking the "Return to Home Page" button in the sidebar.
Why do I need an account?
The TixHub system requires an account for every transaction. Without an account,
we have no way inform you of cancelled or postponed events.
If you lose your tickets we cannot replace them.  
Your account is safe as we collect minimal information and do not share it with anyone. We do not save credit card information.
You can buy tickets anonymously (only upon request) at our downtown ticket agent, Choose Refill.
I don't know if I have an account.
If you have bought Shuswap Theatre tickets online before under your own name (after September, 2019) you should have an account. Your User ID is your email address and you will have created a password. If you bought tickets at one of our downtown ticket agents you most likely have an account. A password might have been randomly assigned to you, so it is not unusual for you not to know your password.
I don't know my password.
No problem. When you are prompted to log in, just click on "Reset my password"  and enter your email address. If TixHub recognizes it, you will receive an email with a link to reset your password. Check your spam filter if you don't see it. Follow the instructions in the email.
When setting a new password, TixHub now requires at least 8 characters in any combination of upper and lower case letters and numerals. Symbols are not accepted.
Once you reset you password, it is important that you finish your purchase on the same device and in the same web browser that you started with. Otherwise, you won't see the tickets you selected in your shopping cart, nor will you be able to select them again. The system will hold them for 25 minutes and then release them for sale.
TixHub doesn't recognize my email address.
If TixHub can't find your email address in their system:
Try a different one if you have one  (or perhaps your partner's).
If that doesn't work then click the "Create Account" button and create a new account. Fields with an * are required. The rest is optional though completing them all is encouraged in case later we have to solve a problem with your purchase.
TixHub and Shuswap Theatre do not store your credit card information nor do we share your personal data with anyone.
We encourage you to click the button marked "Keep me up to date about news and upcoming events" so that you won't miss any of our exciting events. But, of course, it's up to you. It's easy to unsubscribe if you change your mind.
I put some seats in my shopping cart but they're not there.
This usually happens when you run into a problem logging in and then you find that the tickets you already had selected are no longer available. While there is a slight chance that someone snapped them up when you weren't looking, it is much more likely that the system is still holding them for you. If you are logged in, click on the View Shopping Cart button in the sidebar on the left (see below).  This will usually restore your selected seats.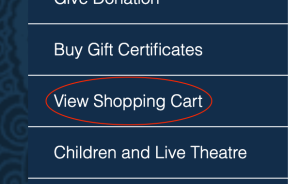 When you put tickets in your cart and don't complete your purchase, the system holds them for you for 25 minutes before releasing them. So, if you can't seem to get them back, just wait a half hour and try again. They will almost certainly be available. Or, if you would be happy with different seats, then put those new seats in your cart. When you go to Check out you will see whether your original tickets are also still there. If so, just remove the ones you don't want before checking out.
The system won't accept my credit card.
This is often not under our control. You can try:
Re-enter your card number and other information.
Try a second credit card.
Wait a while and try again. 
You may have to call your credit card company to see if there is an issue.
Drop into our downtown ticket agent, Choose Refill (Lakeshore Village behind Wendy's), and pay with your credit card,  cash or cheque.
If it is not realistic to do that (due to geography or disability, for example) you may call or email our Ticketing Manager, Kim MacMillan  at (250) 517-0309 at home. Like all of us, he is a volunteer, and you may have to leave a voicemail message. Have your credit card handy.
Why won't it let me buy just one ticket?
You can buy just one ticket. However, the system is designed prevent patrons from leaving a single empty seat (known as an orphan) beside you. This can be a pain if there are only a few tickets left for a performance. Our ticket agent can override this requirement if needed so you may need to visit them for your purchase.
Best Practices
Log in first, before – selecting seats.
The process seems to go smoother if you click the Login button at the top right of your screen before you go looking for tickets. That reduces your chances of losing track of your seats if the login doesn't go smoothly. However, you can log in either at the beginning or when prompted just before checkout. 
Choose email as your method of delivery and print your tickets at home (or on your phone.)
While you are free to choose Pick up at Door, it saves time on show night if you have your tickets already printed and don't have to line up to collect them. When you get your emailed purchase confirmation, scroll down to find your tickets attached to that email. Alternatively, there is a small Printer icon in the email that you can click to download them again. You can print them on paper or bring them on your phone. Your purchase confirmation is NOT your ticket. Each ticket has it's own QR Code that the Box Office volunteers will scan when you enter the theatre. You can also store your tickets on your smart phone and bring that to the theatre.
I still need more help.
Call Kim MacMillan, our box office troubleshooter, at 250-832-4094 or send him an email.  Like all Shuswap Theatre personnel, he is a volunteer who will attend to your problem as quickly as possible. You may need to leave a message. Please include your full name, your phone number and the time of the performance you could like to attend, along with any other information you think would be helpful.