Shuswap Theatre Wins Covid Pivot Awards
Posted on August 26, 2021 in General News, Member News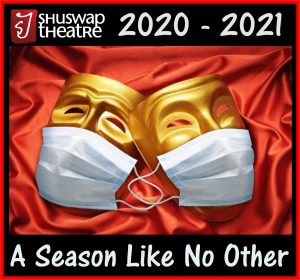 Theatre BC has awarded Shuswap Theatre three Pandemic Pivot Awards which recognize innovation and creativity in continuing to do theatre amid the challenges of Covid-19.  
Theatre on the Edge (TotE Fest 2021) received an award for the most fun and innovative instructional video on how to watch a live zoom/youtube performance. Congratulations to Marcus and the TotE team.  Watch it on the home page of the TotE website:
Shuswap Theatre received two awards:
•  Most innovative live theatre performance season
•  Most entertaining Pivot presentation submission
The second award refers to our video submission created for the purpose of communicating all the elements of our 2020-21 season. Congratulations to our intrepid Artistic Committee and to our dedicated film editor. Click the link below to view it.