Row A Seats Now Available Online
Posted on November 19, 2022 in General News
We have made a change to the online availability of the wheelchair accessible seats. We are now reserving only seats A-1 to A-4 for wheelchairs. (Each wheelchair takes the place of two seats.) These are available only through Wild Craft Mercantile because of the extra step needed to remove an extra seat from availability. If the house is nearly sold out, however, we do release those seats as well for general purchase.
If you see a green square over any seat (as below) when selecting your seats online, it means that seat is available for online purchase.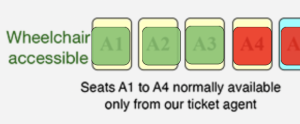 In the near future we expect to be able to regularly offer wheelchair seats online.