Push Up Bar
Posted on February 26, 2022 in General News
March 4–5, 2022  (3 shows)
A Presentation of Shuswap Theatre's TotE Festival
A Break a Leg Collective Production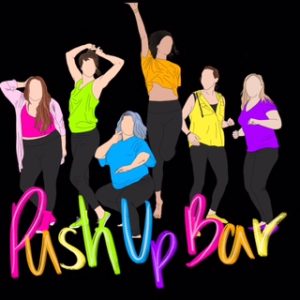 An improviser, a visual artist, a dancer, a sketch comedian, a Shakespearean fool, and a musician – all walk into a bar… …and Push Up Bar is the result! A collective creation conceived in crazy times* and custom-crafted for YOU, dear audience. Push Up Bar is the balm you've been waiting for – administered from a safe, playful distance.
*No communicable diseases are mentioned in this show.
Let's break some rules… Music, movement, and marvellous mayhem. Just in time for International Women's Day – Push Up Bar is a devised theatrical piece that draws its textures from its co-creators' diverse arts backgrounds – from ballet to sketch comedy, and from Gaulier clowning to pop opera rockin'. Don't miss this wicked and wonderfully weird mosaic-in-motion.
Three Performances
March 4 @ 7:30 pm
March 5 @ 1:30 pm and 7:30 pm
Tickets $25
Current health regulations will be followed, including
Proof of full vaccination
Masks worn while in the building
Half capacity (75 seats) with two empty seats separating each party. Be sure to book together if you want to sit together.
Advance tickets are highly recommended.
Created & directed by:
Catriona Leger
Created by & featuring:
Morgan Benedict,Jessica Buchanan,
Allandra Gardner, Brittney Martens & Devon More
Stage Management:
Terri Runnalls
Choreography & Movement:
Nathan Fadear
Sound Design:
Devon More