Improv Workshop with David and Ken
Posted on May 10, 2022 in General News
•Please note updated cost.•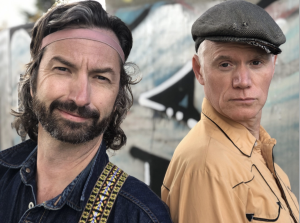 We are excited to be offering the opportunity to attend an Improv Workshop with improvisers David and Ken!
"Improv FUNdamentals Masterclass"
Good improv scene work always comes down to the fundamentals. In this workshop you will:
have a very good time,
learn/deepen you're knowledge of the foundations of a solid scene,
make lots of glorious, laughter filled mistakes (we love making mistakes!).
You'll also perform scenes while receiving coaching from some of the most experienced improvisers in the world with the goal of helping you become a more confident and joyful improviser! Join us in this exciting and practical exploration of everything that makes improv so fun…damental!
DETAILS
June 5th, 1:00 to 5:00 pm at Shuswap Theatre
Ages 18 and up
Limited to 20 participants
COST
$50 for members
$75 for non-members (with an opportunity to become a member if desired at no extra charge)
To register or, if you have any questions, email Nedine.