Dead Men Don't Do Radio Plays
Posted on April 16, 2021 in General News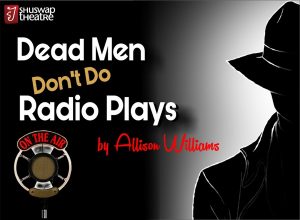 By Allison Williams, directed by Julia Body
Did you miss this hilarious radio drama? Or perhaps you would like to hear it again. Well, you're in luck! Listen to it right here:
Episode One:  Dead Men Don't Carry Handbags
Episode Two: Dead Men Don't Jaywalk
Steve Powell is the radio star of the Frank Grayson, Private Eye series.  But in real life he's not as suave, doesn't have a way with the ladies and has a habit of narrating his life.  But crimes keep happening around him.  Will he be able to solve the crime and get the dame? 
Enjoy this hilarious spoof on the film noir genre so popular in the 1940's, complete with foley (sound effects) done right on stage.