A Public Reading of "Outside Mullingar"
Posted on October 1, 2020 in General News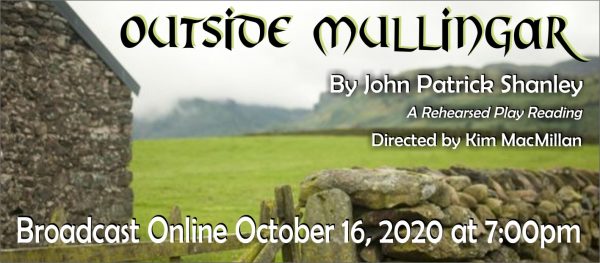 By John Patrick Shanley
Directed by Kim MacMillan
View it Online for 24 hours starting at 7:15 pm, Friday, October 16
Rosemary has every reason to fear romantic catastrophe. But then, in this very Irish story with a surprising depth of poetic passion, these yearning, eccentric souls fight their way towards solid ground and some kind of happiness. Their journey is heartbreaking, very funny, and ultimately deeply moving. Outside Mullingar is a compassionate, delightful work about how it's never too late to take a chance on love.
"Mr. Shanley's finest work since DOUBT…a softhearted comedy freckled with dark reflections on the unsatisfactory nature of life and the thorns of love." –NY Times
Watch this rehearsed public reading  recorded on video in front of a small audience. Tickets $10 available online only. Your emailed ticket confirmation will provide the link and password to access the video.