A Needed Facelift
Posted on March 28, 2022 in General News, Member News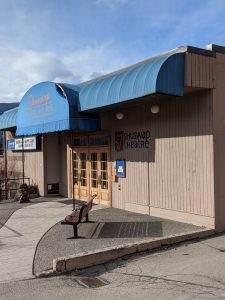 The front of our building has seen better days. The canvas awning is ripped and faded. The 1980's cedar siding is deteriorating and decidedly shabby. We need to replace it all with something bolder and more beautiful for the next few decades. The cost of replacement (and improvement) will be in the tens of thousands of dollars.
We are already seeking major grants from funding bodies but we will need to raise a substantial amount ourselves from the community. A fundraising committee is being struck and you will hear more about that in the coming months. The community's response to past fundraising efforts has given us heart to approach this necessary project.
We intend to leave the underlying structure of the building unchanged but remove the canvas awning, the staircase and cedar siding from the front of the building. We would like to include a modern Electronic Sign with full colour images and messages to highlight our events.
Project coordinator Craig Massey is seeking input from our members and patrons on a new and creative design. Our goal is to update our façade in a fiscally responsible manner, improving our overall curb appeal. It is time that our façade and entrance reflect the quality of productions presented on stage.
As we work through the design process, we would appreciate any and all support, both financial and in the design process. Please share any thoughts you have. Email Craig.