Youth Summer Musical Theatre Program
Shuswap Theatre's Youth Summer Musical Theatre Program
For ages 8 – 18
Meet our fabulous instructors, Kelly Coubrough, Lynette Lightfoot, and Michelle Atkins
General Description: 
3 week summer musical theatre camp for youth, ages 8-18 culminating in a Fully-Staged production of "Getting to Know: Once Upon a Mattress" by Dean Fuller, Jay Thompson, Marshall Barer, + Mary Rodgers
Daily instruction in all aspects of Musical Theatre: Singing, Dancing/Choreography, Acting, Sets and Costumes
Ages 8 – 18 – Limited spots: Only accepting 10 JUNIORS (8-12) and 10 SENIORS (13-18) – No Audition Required

Cost:
Early Bird before June 1: $575 per student
June 1 or later: $625
Rehearsal Dates:

July 5–23, 2021
Monday–Friday 9:00 am to 3:00 pm
The Nexus at First United Church
5th Street SE at Okanagan Ave

Performances:

Friday July 23 at 7:00 pm & Saturday July 24 at 2:00 pm
Shuswap Theatre
41 Hudson Ave NW
 
COVID Note:
This program has been modified, with reduced numbers, in order to protect everyone from the possibility of contracting covid. Closer to the date of the program a protocol will be sent out to registrants and posted on this website based upon the latest regulations and advice from BC Health.
Cancellation Policy for Summer Kids' Musical Theatre
A full refund will be issued for registrations cancelled  prior to June 21st.
A full refund less a $50 cancellation fee will be issued for registrations cancelled June 21st or later.
If Shuswap Theatre is forced to cancel the event for any reason registrants will receive a full refund.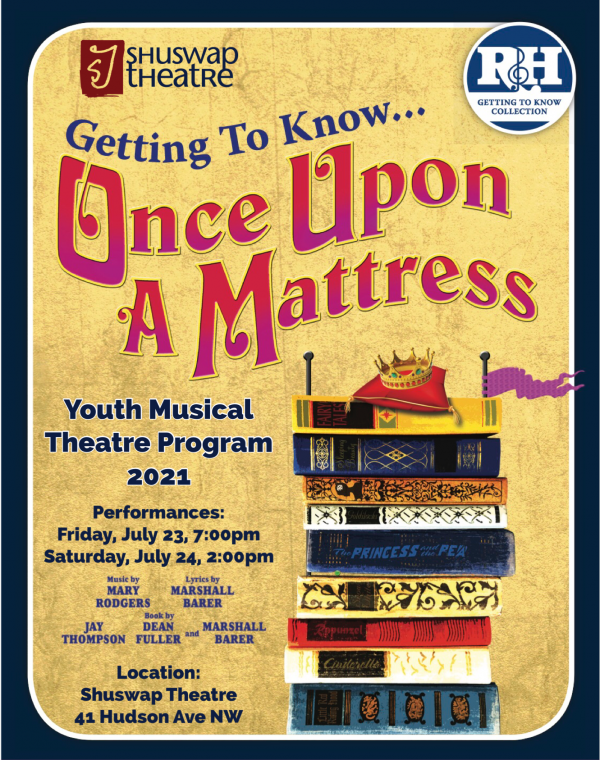 ONCE UPON A MATTRESS
Music by Lyrics by
MARY RODGERS MARSHALL BARER
Book by JAY THOMPSON, DEAN FULLER and MARSHALL BARER
Adaptation by
TOM BRIGGS and TIMOTHY ALLEN McDONALD
Original Orchestration by Hershy Kay, Arthur Beck and Carroll Huxley
Musical Preparation by John Higgins
GETTING TO KNOW… ONCE UPON A MATTRESS is presented by arrangement with Concord Theatricals.
www.concordtheatricals.com