OZone Festival 2017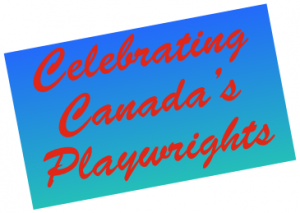 Shuswap Theatre is proud to host this year's Theatre BC Okanagan Zone Drama Festival. With the theme of Canada 150, theatre groups from up and down the valley will be presenting seven Canadian plays in seven nights on our stage May 20–27. This is a wonderful opportunity for local audiences to see so many fine productions in one week and it's a great learning experience for cast, crew and audience alike. 
Tickets no longer available
Festival Brochure
Workshops
The adjudicator for the festival will be James Fagan Tait. He will present a brief public adjudication immediately after each play and then a more thorough adjudication the next morning at a two-hour "coffee critique", coffee and goodies supplied. The week concludes on Saturday night with a banquet and an Oscar style awards ceremony. The Best Production is selected by the adjudicator to enter the provincial festival, Destination Mainstage 2017, which will be at the Vernon Performing Arts Centre this year. Non-winning clubs can apply to perform at Mainstage as a Workshop Play. Download the application form.
The Plays
Jewel

by Joan MacLeod

Directed by Elizabeth Ann Skelhorne

Shuswap Theatre
Salmon Arm

It's Valentine's Day, and Marjorie reminisces aloud about the loss of her husband on the Ocean Ranger and her decision to begin her life anew. Jewel is a powerful and hopeful, one-woman play based on a real life catastrophe–the sinking of the Ocean Ranger oil rig in 1982.

For all the grimness of its subject matter, Jewel is never oppressively maudlin. Moving, frequently funny, it's a strong affirmation of life, love and the strength within us all." [Linda Moore, Richmond Review].

Jewel is staged by arrangement with Pam Winter, Gary Goddard Agency, www.garygoddardagency.com.

Saturday May 20
7:30 pm

Half Life

by John Mighton

Directed by
Paul Kirkwood-Hackett

Asparagus Theatre
Armstrong 

Two nursing home residents, both in their eighties, meet and fall in love, rekindling what might have been a wartime romance. 

Had they previously met somewhere else under different circumstances? Why is their love so troubling for their children? Indeed, the light at dusk is sometimes warmer and more enveloping than that of the midday sun. Characters navigate between being and appearance, between cowardice and dissoluteness.

The award-winning author of Possible Worlds brings us this poetic and moving meditation on identity, aging, and the nature of memory. What shines through when memory fades away?"

Winner of the 2005 Governor General's Literary Award in Drama and the 2006 CAA Carol Bolt Award.

Produced by arrangement with Canadian Drama Publisher.

Sunday May 21
7:30 pm

Sisters


by Wendy Lill

Directed by Debra Bob

Powerhouse Theatre
Vernon 

As Mary sits in the county lockup she reflects on her choice between Louis and the Church. Did she choose wisely?

Sisters is a tough, uncompromising look at a convent-run Native residential school. While the play chronicles in graphic detail the now well documented agenda of cultural genocide which motivated the establishment of Native residential schools in Canada, the daring triumph of this play is that it reveals the far less well documented cultural infrastructure and values of the society which created those schools—the church and the state of white, colonial, paternalist Canada.

Produced by special arrangement with Playwrights Guild of Canada, www.playwrightsguild.ca.

Monday, May 22
7:30 pm

 

Age of Arousal

by Linda Griffiths

Wildly inspired by
The Odd Women
by George Gissing

Directed by
Rob Mason-Brown

Fred Skeleton Theatre Company
Kelowna 

It's a time of passion and confusion. Virtue is barely holding down its petticoats. People are bursting their corsets with unbridled desire. It's 1885 and the typewriter and the suffrage movement are sending things topsy-turvy. In the midst of it all, five ambitious New Women and one Newish Man struggle to find their way. Miss Mary Barfoot runs a school for secretaries with her young lover, Miss Rhoda Nunn. But when the Misses Madden – spinsters Virginia and Alice and beautiful young Monica – arrive, along with the attractive Dr. Everard Barfoot, things can never be the same.

Rob Mason-Brown directs this genre-busting, rule-bending and ambitiously original piece written by Canadian playwright and feminist, Linda Griffiths. Age of Arousal is a lavish, sexy and frenetic ensemble piece that audaciously explores the forbidden and gloriously liberated self.

Adult themes and language.

Produced by arrangement with Kensington Literary Representation

Tuesday, May 23
7:30 pm

 RAFT: a Rock Opera

by Randall Robinson &
Pat Brown

Directed by
Randall Robinson

In 1816 four ships set sail from France en route to Senegal. The flagship was the frigate Medusa. On board, an unlikely mix of English soldiers, French sailors, civilian passengers, and their newly appointed governor. She never made port. Due to the incompetence of her arrogant captain, the Medusa ran aground. Of the 400 people on board, 151 souls were set adrift on a makeshift raft without food or water. Condemned, as it would turn out, to unthinkable depravity and suffering.

Theodore Gericault, an aspiring French painter became obsessed with the true account of this tragedy and embarked on his masterpiece,  The Raft of the Medusa.

A truly unique entry, as it is representative of the Okanagan, Raft is original right from the beginning of researching the history. It is written and scored by Okanagan residents Randall Robinson and Pat Brown. The cast, crew and musicians come from all corners of the zone to participate in this unique Canadian Play. Although considered a rock opera, the music is melodic and enchanting as it conveys this tragic story.

Warning: contains mature themes and may not be suitable for persons under 14 years of age.

Wednesday, May 24
7:30 pm

Since You Left Us

By Susinn McFarlen

Directed by 
Trevor Leigh

South Okanagan Players
Oliver

Susinn McFarlen's play is a bruising black comedy about a broken, dysfunctional family and it's funny as hell. An adventurous, daring, bold and side-splitting politically incorrect family keeping it all together. A hopeful, hilarious and ambitious story of a family that manages to find a way to make it all work.

Presented by special arrangement with the Playwrights Guild of Canada.

Thursday, May 25
7:30 pm

 

Possible Worlds

by John Mighton

Directed by
Josh Herzog

Crimson Tine Theatre
Princeton 

Two lovers experience a baffling series of relationships together, each one just slightly and tantalizingly different, as George travels through different worlds seeking Joyce, her true love. Possible Worlds uses parallel narratives to speculate about questions of identity and the role of imagination in love.

"…every scene is just dazzling… This is like a double expresso for your mind." –Richard Ouzounian, CBC

Produced by arrangement with Canadian Drama Publisher.

FridayMay 26
7:30 pm

Awards Banquet
and Dance

 Join us for good food and drink as we celebrate the wonders of live theatre and recognize the excellence in our midst. Then boogie!  $30/person.

Fifth Avenue Seniors' Centre
170 5th Ave SE, Salmon Arm

Saturday, May 27
Cocktails & music 6 pm
Dinner 7 pm
Awards approx 8 pm
Dancing afterward
Workshops
OZone Festival is offering two exciting workshop opportunities.
Astrid Varnes will lead a two hour workshop on Friday afternoon called Rehearsal Games. Experience how playing can contribute to the play by fostering trust, relaxation, risk-taking and creativity. Friday, May 26, 1:30-3:30 pm.  $10
Peter Blacklock will be joined by members of the Ida and Old Baldy's Seniors' Theatre group and introduce you to one of the hottest trends in North American community theatre. Participants in Seniors' Theatre call it "the best two hours of my week". Learn about the benefits and how you can start your own group back home. Saturday, May 27, 2:00 – 4″00 pm.  $10
Click here for fuller descriptions and all the details. To register use the Registration/Ticket Order Form.
Accommodations
So far the following hotels are offering special rates for festival goers: 
The Prestige has gone a step further and offered free accommodation for our adjudicator. We will add more accommodation options as information becomes available.
For a complete listing of Salmon Arm accommodations go to the Tourism Shuswap website. 
Sponsors
We are grateful for the support of our sponsors. So far we have commitments (or cheques) from:
Festival Sponsors ($1500)
The Prestige Harbourfront Resort
Shuswap Community Foundation Canada 150
Askew's Foods
Salmon Arm Savings and Credit Union
City of Salmon Arm
Shuswap Park Mall
Performance Sponsors ($500, sponsoring a single performance)
Jewel sponsored by Copper Island Fine Homes
Half Life sponsored by Askew's Foods
Sisters sponsored by Shuswap Tourism
Age of Arousal sponsored by Ian Gray's Salmon Arm GM
RAFT: a Rock Opera sponsored by Shuswap Park Mall
Since You Left Us sponsored by Salmon Arm Savings and Credit Union
Possible Worlds sponsored by the City of Salmon Arm
Programme Advertisers ($250)
CIBC
Dinoflex, Recycled Rubber Innovators
Hanna and Hanna Farm Market and Garden Centre
Shuswap Society for Arts and Culture
Canadian Tire