TheatreSports Competition March 15
Posted on February 26, 2014 in General News
Shuswap Theatre's 'Laughing Gas Improv Troupe' will be breaking their cabin fever with a winter TheatreSports Competition on Saturday, March 15.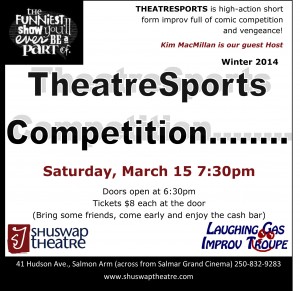 Relying on razor-sharp wit and lightning-fast reflexes (for 'most' of the troupe), teams of performers are pitted against each other in competitive improv matches. Using Host or audience suggestions to fuel scenes, teams must create totally improvised situations on the spot.
TheatreSports is high-action short form improv full of comic vengeance and competition! Not only will you get the zany fun of improv, it will be mixed with the crowd rousing energy of a sporting event, that puts you in the middle of the side splitting scenes. This is an improv tournament format like never before, the result is a hilarious comedic evening that the audience can find nowhere else in the area! (for such a cheap price)
And that's not the half of it – there's a cash bar too! (beer and wine). So, arrange for a designated driver, gather up your friends and get down to Shuswap Theatre on March 15 for a hiliarious evening out.
Kim MacMillan is our host, he thinks he's 'punny'…we'll see about that!
Doors open at 6:30pm, so come early to have a beverage or two.  Tickets are only $8 each (show is rated M – 16 and over) and available at the door. Showtime 7:30pm. For more information, call Monica at 250.833.6100250.833.6100.