Shane Gorner Scholarship Fund
Posted on October 25, 2013 in General News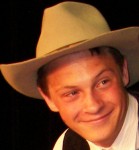 The family of Shane Gorner has established a memorial scholarship fund with the Shuswap Community Foundation. At this writing the fund stands at around $2,000 and will begin making disbursements when it reaches $10,000. If you would like to help reach this goal, please read on for more information and instructions for how to donate. What follows is the description of the fund from the foundation's website.
Shane Gorner Memorial Endowment Fund (Shuswap Community Foundation)
Upon the capital of the Fund reaching the amount of $10,000, income earned on the Fund will be disbursed annually to the Board of Education of School District No.83 (North Okanagan-Shuswap) in accordance with the provisions of this Deed of Gift.  Specifically, it is your intention that a bursary, to be named the "Shane Gorner Memorial Bursary," will be provided on an annual basis to a Grade 12 student attending Salmon Arm Senior Secondary School who:
demonstrates talent and achievement in the arts, particularly the performing arts, visual arts or music;
is a person with strong academic ability although not necessarily a top academic achiever;
intends to pursue post-secondary studies or training in the arts or in a field related to the arts;
is a person of good character and who exhibits Shane's qualities of optimism, maturity and dedication to his artistic pursuits; and
has need of financial assistance.
The recipient shall be chosen by the Award Selection Committee at Salmon Arm Senior Secondary School.
Also, donations can be made to this fund by anyone at any time via the following ways:
By mail:   Box 624, Salmon Arm, BC   V1E 4N7
Online on the foundation website: www.shuswapfoundation.ca
In Person at the  office: 
450 Lakeshore Drive NE
Salmon Arm, BC
(Hours are Mon-Thurs 9:30-3:30 and Fri 10:00-3:00)
For more information email  the foundation or  call the office at 250.832.5428.