Casting/crew call for 'Distracted'
Posted on December 20, 2013 in General News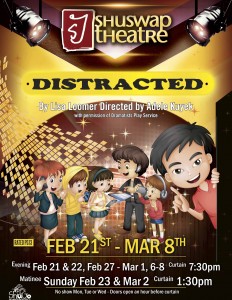 Get ready to be Distracted with our winter play – an hilarious comedy about how society is being "distracted" with our technical toys.  Is it affecting our relationships, our life and specifically our children?
Mama is having a problem with her 9 year old son Jesse.  He can't sit still, he curses, he raps and his focus is minimal at best.  His teacher thinks it's ADD.  His Dad says, "He's just a boy!!!"  Which is it?  Sit back, watch and listen as Mama searches for answers, in the most interesting places! Adele Kuyek is our guest director for this production which runs from  February 21 to March 6. There will be an open reading of the play for anyone interested in being involved (or even just to find out more about it) on Friday, January 3 at 7:00 pm at the Theatre. Auditions will take place on Sunday, January 5 at 1:00 pm. There are eight roles, two characters playing multiple roles.
Mama – female – 30s/40s – Smart, warm, wry unfailingly positive with an ironic sense of humour.
Dad – male -30s/40s – A guy's guy – bright, with quick impulses.
Jesse – male – 9 to 11 – Funny, wild, sweet, impulsive, impatient, exuberant, angry with a mouth on him. Mostly offstage voice, but a big voice!
Sherry – female – 30s/40s – neighbour – well off – eats to make herself feel better – just wants the best for her kids.
Vera – female – 30s/40s/50s – neighbour – obsessive-compulsive, no people skills, pointed direct.
Natalie – female -16 to 18 – babysitter, big mood swings. Open-hearted, angry. A cutter.
Dr. Zavala/Dr. Broder/Dr. Jinks/Dr. Karnes – male or female – 30s/40s/50s – sensitive, anxious child psychologist; wise, warm homeopath; highly respected psychiatrist (tightly wound); environmental physician passionate about his work. (Ability with various accents would be nice but not necessary.)
Mrs. Holly,/Dr. Waller/Carolyn/Nurse,/Waitress – female – 40s/50s – overworked schoolteacher/neuropsychologist going through a hard time/mother of autistic child/down to earth nurse/spacey ADD waitress.
There are also a few non-speaking roles to create flow in scenes.  For more information contact Adele at 250-260-1624 or by email.
The Technical Producers are Randy Brogden and Peter Molnar, and the Administrative Producer is Teresa McKerral. If you are interested in helping with this production in any way, please contact one of the Producers. Actors should contact the Director.