Bob Bossin Concert
Posted on October 6, 2014 in General News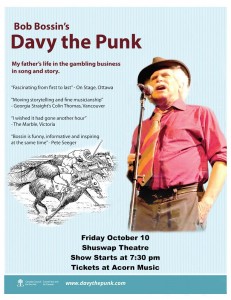 Bob Bossin is making his way from Alberta to Salmon Arm for his Davy The Punk performance that folks will be talking about for years to come, and you won't want to miss this one.
Ticket sales will be available at Acorn Music until 5 pm this Friday. If you are not able to pick yours up at Acorn, reserve ahead by calling Ted Crouch at 833-8556 or sending an email to: tcrouch@shaw.ca. Your tickets will be in an envelope with your name and you can pick them up and pay at the door when you arrive. If any tickets are left they will go on sale at the Shuswap Theatre starting at 6:30 pm on Friday October 10.
…as Davy the Punk would say, the odds are 5 to 7 it'll be a beauty!!