Seeking a New Design for Theatre Facade
Artists and Designers – Submit Your Ideas
The face of our Theatre is needing a lift. The old, blue awning has reached the end of its life and the cedar siding on the front of the building looks tired and very much last century. Some of the structure that supports the siding is no longer sound. We are continually amazed at how many people still don't notice our building (even some who frequent the Salmar).  It's time for a bolder, more modern look and the Board is looking for design ideas for a facelift.
Here are our thoughts so far (but don't be limited by them):
Replace the current awning with a large retractable awning (like an RV awning but big). This will provide shelter from sun and rain when needed without creating an attractive sleeping place.
Replace the siding with something more bold and colourful (Hardie Board perhaps?), possibly with dynamic lines and colour combinations.
Incorporating our brand colours (burgundy and navy) would be a plus but don't limit yourself to those.
Incorporate signage which includes a new, electronic marquee (size and shape to be determined).
Please submit your concept drawings by the end of February. 
We have received a quote on a large awning of the type shown below. It would be 30 feet long and 13'2″ deep, leaving just over two feet next to the front railing exposed. For more options and colours see vernonawning.com.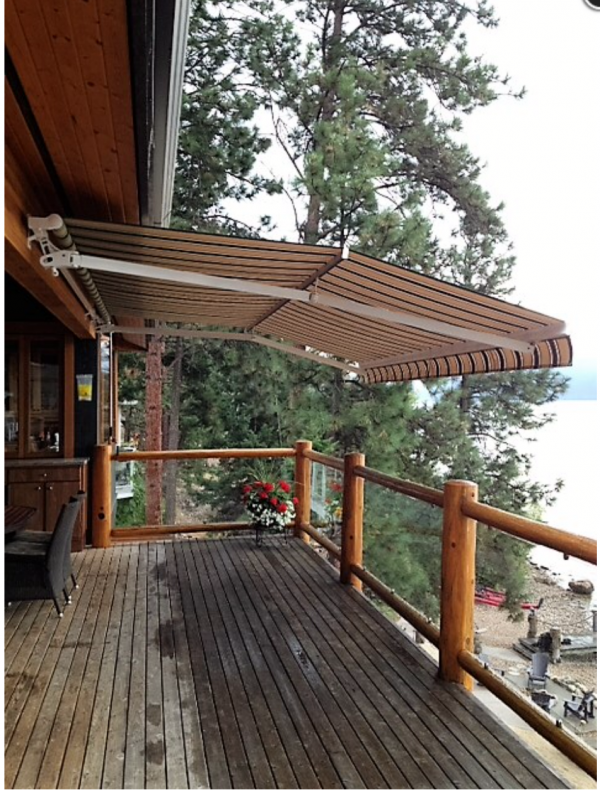 See Hardie Board colours