2020-21 A Season Like No Other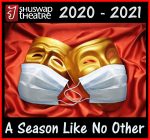 Well, folks, we have a new season planned for 2020-21. But due to COVID 19 it won't look much like any other season. We are compelled to keep doing theatre, so we're determined to do what we can. As you might expect, this plan could change as circumstances change.
We will have live performances with physically distanced audiences and will be experimenting with different media and different venues to bring you theatrical events throughout the fall, winter and spring. 


A collection of five short plays performed simultaneously on five outdoor stages. Ten physically distanced patrons will watch each performance, then move to the next stage to see all of them. 
August 28 & 29
6:00 pm

A rehearsed public reading recorded in the theatre on video in front of a small, invited audience. Offered online with a talk back session afterward using Zoom.

October 16
7:15 pm
Available for viewing for 24 hours

This Halloween, lock your doors, turn out the lights, and don't miss out on Shuswap Theatre's Theatre of Thrills. This mix of radio plays and audio dramas features some of Salmon Arm's brightest  young actors and actresses. Directed by Ali Balloun, Theatre of Thrills is a Reader's Theatre gold mine filled to the brim with all things creepy. The evening will include showings of:

A Week Ago Wednesday by William Spier
The Tell-Tale Heart by Edgar Allen Poe (Adapted by Debra Schultz)
The Curse of the Ugly Dolls by Pat Cook
The House in Cypress Canyon by William Spier

In addition to the performances at 7:00 pm on both October 30 & 31st, Theatre of Thrills will be broadcast on The Voice of the Shuswap on Halloween for anybody who missed the live event.

October 30 & 31
7:00 pm

Tickets ($10) 

Directed by Julia Body

Steve Powell is the radio star of the Frank Grayson, Private Eye series.  But in real life he's not as suave, doesn't have a way with the ladies and has a habit of narrating his life.  But crimes keep happening around him.  Will he be able to solve the crime and get the dame? 

This hilarious spoof on the film noir genre so popular in the 1940's, complete with foley (sound effects) done right on stage, consists of two 30 minute episodes and pays homage to the beloved radio show.

Fri-Sat, November 13 & 14
7 pm

Sunday, November 15
1:30 pm

Tickets ($10)

Once Upon a Time in the Shuswap

A Travelling Family Christmas Show

Written by Peter Blacklock
Directed by Howard deLong

A different kind of Christmas! This is your chance to bring live theatre to your own neighbourhood to share with your friends and neighbours.

Peter Blacklock has written a short play for all ages to be performed outdoors on a movable stage which will travel to various Salmon Arm locations.

There will be 3 shows daily (about 45 minutes each) on each of the following dates:

Friday and Saturday, December 18 & 19 (evening)
Sunday, December 20 (afternoon)

Due to COVID-19 restrictions, a maximum of 50 people can attend each performance. People hosting a performance will be required to monitor the number of people in attendance and ensure the usual distance between bubbles. 

There is no upfront financial commitment required. Elves will  collect donations during the show.

Fri-Sat, December 18 & 19
Evening

Sunday, December 20
Afternoon

When Andrew Makepeace Ladd III accepts an invitation to Melissa Gardner's birthday party, and Melissa writes a thank-you note to ask just why he got her "The Lost Princess of Oz" (answer: she looks like a lost princess), a romantic friendship and correspondence destined to last for almost half a century is born. Both from affluent, East Coast families — Melissa has more money, but Andy has better parents — the friends communicate with each other through angst-ridden boarding school experiences, European adventures, failed marriages, and the ups and downs of career. Despite painful differences which will ultimately tear them apart, they remain each other's most trusted confidante, and are "true lovers" on paper, if not on the earth.

A.R. Gurney's Pulitzer Prize nominated Love Letters is a tender, tragi-comic, and nuanced examination of the shared nostalgia, missed opportunities, and deep closeness of two lifelong, complicated friends. 

Early March

Dates to be announced

A Radio Play

(Title to be announced)
April 29–May 1
Five Minute Play Festival
Produced by Gloria Cox
June 4 – 6