2015-16 Season
Three Mainstage Productions
Mainstage shows run for three weekends – no performances on Monday, Tuesday or Wednesday nights. Thursday nights are 'Pay What You Can,' cash only at the door. Sunday shows are at 1:30 pm, all others are at 7:30 pm.
---
Bedtime Stories

By Norm Foster
Directed by Paul Kirkwood-Hackett

October 16–31, 2015

Canada's most popular playwright is back with what some have called his funniest play yet! This six storied plot weaves a tapestry of interconnected tales from a woman leaving her husband to a rock star and his groupie all focusing around one thing, a bed. As always, Foster has created genuine, recognizable characters who bring us intimately into their life struggles while keeping us rolling in the aisles.  

Presented by arrangement with Pam Winter, Gary Goddard Agency. 

Welfarewell

By Cat Delaney
Directed by Evelyn Birch

February 19 – March 5, 2016  

Retired actress Esmerelda Quipp is 80, still of sound mind, and having difficulty supporting herself with her meagre government pension. Her landlord has shut off the water and lights, and then her beloved companion of many years, her cat, dies. When she tries to bury it in the yard, the landlord stops her saying it's a violation of the law. When she is arrested, Esmerelda discovers a sense of community and free room and board within the prison system. How will Esmerelda convince the legal system she should be incarcerated, literally, for life? Find out in this delightfully charming comedy. Winner of the 2009 Samuel French Canadian Playwrights Contest.

Presented by special arrangement with Samuel French. * Contains Adult Themes *  

 

I Had a Job I Liked. Once.

By Guy Vanderhaeghe
Directed by Marcus Smith

April 29 – May 14, 2016

Is justice black and white? In a world of quick condemnations and mandatory minimums, a by-the-book RCMP sergeant must uncover the truth. The local Crown Attorney's daughter has accused Les Grant, a teenager from the the wrong side of the tracks, of an egregious crime. Now it falls on the jaded officer to decide. Is he guilty? What is he hiding? Why won't he tell the truth? Winner of the Canadian Authors' Association Award for Drama.

Presented by arrangement with Cooke Agency International..  
Contains Adult Themes and some Coarse Language.
 Mainstage Ticket Prices
Adults  $20  •  Seniors  $18  •  Students*  $10
Note: we have not included a children's price this season as all our mainstage plays are adult themed.
(A convenience fee applies when purchasing tickets on line. This fee is charged by our Vendini service provider and does not go to Shuswap Theatre.)
Important notice for those on our mailing list who buy tickets online.
---
Rapunzel: A Tangled Tale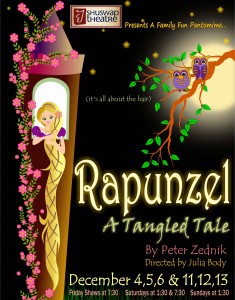 A Christmas Pantomime
By Peter Zednik
Directed by Julia Body
December 4–6 and 11–13, 2015
The whole family will be chuckling over this trendy take-off on the traditional tale. It's all about the hair as we meet Prince Pompadour, King Bouffant and Queen Beehive, amongst other zany characters. The one liners fly thick and fast and the audience can't help but get involved. A must see for this holiday season. Who knows, maybe even a visit from the big guy.
Presented by arrangement with the playwright.