Thank you to the Salmar Community Association!
Shuswap Theatre recently received $1000 from the Salmar Community Association to purchase a "anti-pigeon" special netting to fit under the awning at the front of the building, above the entrance to eliminate the possibility of someone being pooped on as they come and go from the building. The netting also means less cleaning of the sidewalk below.  Thank you for this very necessary netting.
Thank you to The Shuswap Community Foundation!
Shuswap Theatre received an $1800 grant from the Shuswap Community Foundation and the Geoff and Judith Benson Endowment Fund. The monies donated will be used to buy new audio visual equipment to better communicate with the Backstage/dressing room to lighting/sound booth and Front of House.  The quality of our shows continues to improve with upgrades such as this and we could not do it without the support of the Foundation and the Bensons. To read more about the Geoff and Judith Benson Endowment Fund, read here.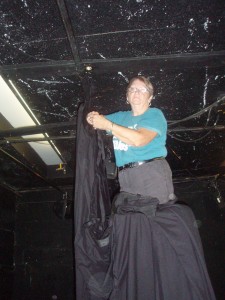 Shuswap Theatre gratefully acknowledges the support of the City of Salmon Arm with a recent grant of $2500 to purchase new blacks. Ten years ago we replaced our blacks with factory seconds and over time, they have seen much wear and tear from many productions and events.
Stage Blacks are made of a heavy, fire retardant material in accordance with National and BC Fire codes. They are also an unusual size – so the construction makes them even more expensive. The Grant In-aid Committee acknowledged "the contribution the Theatre Society makes to the cultural fabric* of the community."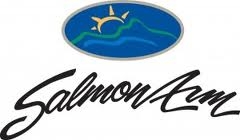 Special thanks to Joyce Henderson for her efforts in writing the grant and for Cilla Budda, 'keeper and hanger of the blacks'. (*no pun intended)
 Sponsors and Patrons
Shuswap Theatre Society is very fortunate to be supported by a number of businesses and individuals in the Shuswap. Please support them where you can as an expression of thanks for their support. (if you click on the underlined names, you will open a page to their websites).
These local businesses and individuals sponsored a show or the theatre in general, in our 36th season – 2012/13:
Lakeside and McLeod Insurance
Crown Furniture and Mattresses
Be-Ja Cabinets and Countertops
Salmon Arm Observer/Shuswap Market
Fabricland Salmon Arm
Jupiter Productions 'Cruising With The Boomers'
Salmon Arm Stationery/Wickett Business Services
Brecknell Electric
Patrons:
John & Joyce Henderson
Steve Miller & Denise Reimer
Al Neale & Beryl Herdan
These local businesses and individuals sponsored a show in 35th season – 2011/12:
Fabricland – Salmon Arm
Stephanie Landry Photography
Wickett Business Services
Colour Trends Decorating
Be-Ja Cabinets and Countertops 
Arthur's Gemset Studio
We have a new Sponsorship Program which allows for various levels of support, including Gold, Silver and Bronze Sponsorships. Each of these comes with advertising for your business. Click here to find out all the details.
We are also very fortunate to have a number of individual patrons who support us by making a donation to go towards a specific show or other Theatre venture, including:
Al Neale and Beryl Herdan
Denise Reimer and Steve Miller
John and Joyce Henderson
These tax deductible donations can be made through CanadaHelps.org (information on our homepage), or by contacting Monica at pr@shuswaptheatre.com.