James Fagan Tait-Adjudicator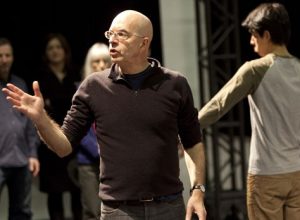 James Fagan Tait is a native of Cornwall, Ontario and trained at Ryerson Theatre School and the Royal Conservatory of Music in Toronto where he worked as an actor and director for several years. He also studied theatre at Ecole Jacques Lecoq in Paris where he worked as an actor and director for four years. He was co-artistic director of Dialogue Theatre Company in Cornwall, Ontario, a company dedicated to theatricalizing topical issues and local histories. He was the artistic director of "Fly on the Wall Theatre Company in London, England, which received acclaim for its production of "The Watermelon" at the Edinburgh Festival. He co-authored and directed Shadowland's Lysistrata and the New Age, a community play, on the Toronto Islands a dozen years ago before establishing himself as a regular actor/director at the Caravan farm Theatre in Armstrong, B.C. He is a regular performer for all the local theatres in Vancouver and co-authored and directed Not the Way I Heard It in Enderby, B.C., a massive community play about and created for the residents of Enderby. He has toured the province in A Change of Heart for The Hospital Employees Union and The A.I.D.'S Informer for The World A.I.D.S. Group, both of which he co-authored and co-directed. He directed the acclaimed productions of The Forced Marriage and The Hotel Play at Studio 58 at Langara College.
Coffee Critiques
James will give a brief public adjudication immediately after each play. The following morning he will provide a detailed adjudication/workshop at the Coffee Critique (9:30 to 11:30 am), where he will work with Director, Cast and Crew. Your ticket to the show also gives you admission to the Coffee Critique.