SPLATT!!
The 2014/2015 season of Seniors' Theatre meets Tuesdays at 9:00am at Shuswap Theatre and Wednesdays at the same time at Cedar Heights Community Center. After Christmas, things start up again on January 13. The costs to participate are minimal, you simply need to take out a Shuswap Theatre or Cedar Heights membership and pay a $2.00 drop in fee for each session. Drop ins are welcome.
The first meeting is a mix of some of our favourite old activities and some new ones that Peter has never tried before. You will also spend a little time talking about our dates and times–there is already a known conflict for some at Cedar Heights–and look over a couple of proposals for playing in different halls and spaces–maybe even a road trip or two. As well, there are a few people who would like to try creating some performance works which would change the nature of the beast.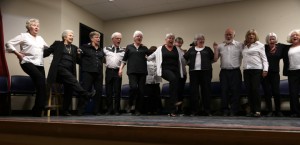 Check out the great photos from Seniors' Theatre Spring Concert – click here  For more information contact Peter by email or 250-675-3004
Remember–you are never late for Seniors Theatre.
Background:
A quick on-line search into Studies of Arts and Aging shows that researchers are starting to investigate what we have intuitively known for a long time—that being involved in the Arts keeps our brains and bodies healthy. There are almost 1000 registered Seniors' Theatre Companies in North America. While the activities are not always the same, the intent is always to provide physical, intellectual and social stimulation while exploring the issues we all face on a daily basis.
That is the official story.
The unofficial story is that Seniors' Theatre is the best two hours of your week. We laugh, get teary, meet new people, solve all of the issues facing modern society, stretch our faces and our muscles, and come away with a passion to return. Do you have to be a senior to be involved? No! Our whole intention is to be inclusive of the whole community and we want to interact with people of all ages. What skills do you need? If you can laugh at yourself and share a story with others then you are more than qualified. Any other skills we will develop along the way.